You need these 4 zero drop causal shoes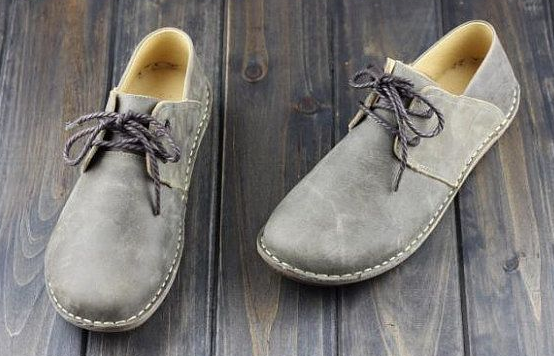 Most of the 0 drop shoes reviewed in this site are either zero drop running shoes or zero drop boots. Today, we will look at something more causal i.e your everyday walking shoes that have zero toe to heel rise. Along the way, we will suggest how ways to wear these casual shoes, with recommendations on what to wear.
Zero drop casual shoes reviews
Let's jump straight to the meat and potato of the articles, which are reviews on the different 0 drop causal shoe brands. Below are some my of favorite models. Most are comfortable and more importantly stylish looking.
Xero casual canvas barefoot shoes review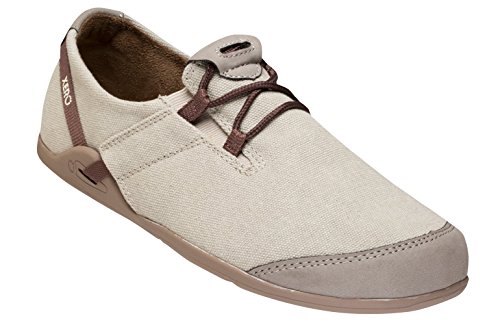 My top recommendation is for this Xero casual shoes, available in 3 colors. The one shown on the right is the color that is the easiest to match. It is white-beige in tone and can go along with many different styles and/or color combinations. There is a black version for those who wants a darker tone.
The thing I like about this shoe construction is the wide toe box. If you have been trying to zero drop shoes for wide feet, this is definitely a good choice for you. The side of the shoe has very contour though so it might not be suitable for certain kind of feet.
In terms of purposes, this is meant for everyday wear. If you want to use it for things like hiking or trail walking, it can be done, depending on how tough the terrain is. You need to be aware that the ankle of is a bit loose so it might not as suitable for serious hiking.
When you are buying the shoe, do note that it doesn't run to true sizing. You will need to order 1/2 or even 1 size bigger to get a comfortable feet. If you are buying online, get 2 sizes and then return the one that didn't fit well.
Vivobarefoot Aqua II review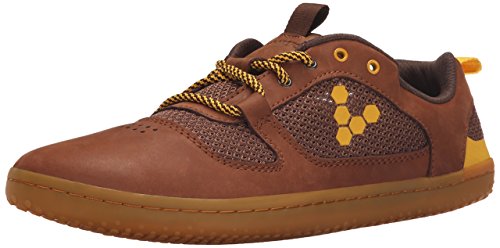 Vivobarefoot Aqua ii features a modern sneaker design for its zero drop casual footwear range. Not only do they look great, they feels very comfortable when being worn. They feel very light on your feet and is a pleasure to walk in, even though they have zero drop design. For those with wide feet, the toe box on this is also pretty spacious so it should have no problem accommodating wide foot folks.
However, keep these shoes out off out of wet glass surface. If not, prepare to see green coloring on the side of the shoes that is impossible to remove. Also, the wetness from the glass will sip into the sole and creates a very unpleasant sound. Again, it is difficult to remove the smell.
Unfortunately, this model is no longer in production. Once they ran out from the warehouses of retailers like Amazon, they will be gone forever. If you like them, better get them before they become 'extinct'.
Evolv Cruzer Shoe review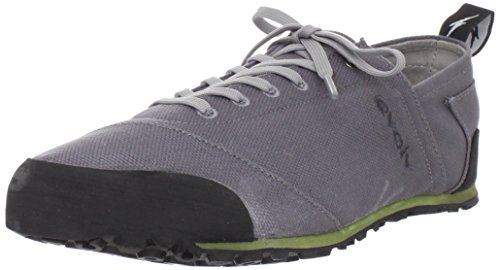 Evolv cruzer shoe is a lightweight trail shoe that can be used as a casual shoe. As a trail shoe, you can use it for short hikes. However, if you are intending to do a long one, it is probably not the best choice as you will need stronger support in long distance walking.
As a casual shoe, the Evolv cruzer checks all the right boxes. As mentioned, it is light weight and very comfortable to walk in. The material used also makes the shoe very breathable. The end result is you will not develop any stinking feet even after wearing the shoe for a long day.
One interesting feature is that their heel can be 'folded down'. This makes wearing and taking them off super fast and easy. You just literally pull down the heel and off the shoes go. This is something other causal shoe might want to learn from.
When buying the shoe, note the sizing. It is not true sizing so you need to order at least one size bigger. However, some buyers complaint that even that is not sufficient. As I mentioned before, the best way to solve this problem is to order different sizes at once and return the ones that don't fit. Do note that front is slim in design so it is not a good fit for those with wide feet.
 Altra Instinct Zero Drop Casual Shoe review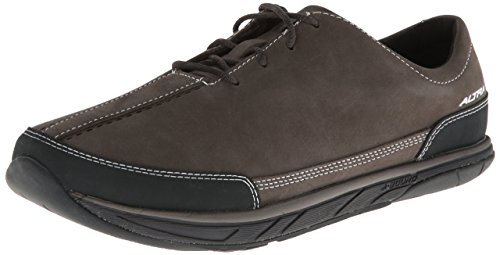 I put the Altra Instinct Everyday sneaker as the last recommendation as I don't think too highly of its design. Compared to the other models, it is more bulky and that makes it harder to look good, no matter how well you coordinate your outfits.
Looks aside, the shoe itself is very made. It is durable and very comfortable when worn. Compared to other minimalist casual shoes, it has a much higher platform that measures 23mm, relative to the 10mm of other shoes. The mid sole has more padding. All these makes the walking more comfortable.
For sizing, try half a size smaller as Altra shoes tend to run a bit bigger. This is unless you have wide feet. In this case, ordering your true size might give you a more correct fitting.
0 drop casual shoe buying guide
Here is what I recommend that you pay attention to when buying any 0mm casual shoe.
Fit: This is probably the most important. The fit usually differs by the different brands. Find one that fits the contour of your feet well, including the size of your feet. Some models have bigger toe box while others might spot a thicker mid sole. Test out different brands until you find one that has the perfect fit for you. Never compromise on this.
Toe to heel drop: If you have been wearing zero drop running shoes, then there should be no problem. However, if you are new to this whole barefoot thingy, you might want to consider getting a 4mm drop shoe rather than going straight for zero drop. Your feet will have an easier time adjusting to this new height.
What it is used for: Most of the shoes are meant purely for everyday wear. Some models can doubled up as a hiking shoe for short trips. However, do not buy any of them if you intend to use them for crossfit or serious running. There are more suitable shoes out there for such purposes.
 Design: Since you are looking for a causal shoe meant for everyday use, get one that is easy to mix and match. Usually, shoes that have a slimmer design will look good. Colors wise, go for lighter tones as they match well with both dark and light bottom.
How to clean your shoe
Most of the shoes can be cleaned with just mild soap and a damm cloth. Dab the cloth into the soap and rub it against the spot that you wish to clean on the shoes. After cleaning, make sure you leave the shoe to dry naturally. Never put in a dryer. That will kill the shoe faster than you can say "Holy Shit Batman".
Conclusion
I hope this buying guide has been useful to you if you are looking for barefoot casual shoe. I try all of the above shoes, either in stores or are part of my collection. You can 't go wrong with any of them.