Guide to the best minimalist steel toe shoes and boots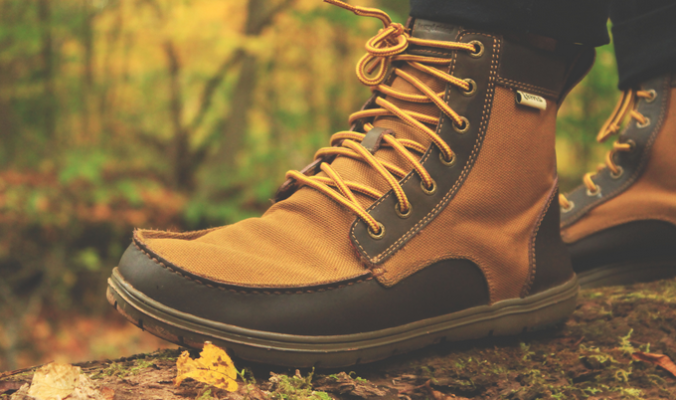 For users with special needs, getting the right zero-drop steel toe shoes is really hard. It seems like there are only a few options in the market but this is not really true. There are plenty of models to choose from but we need to be carefully and pay a lot of attention when the buying time finally comes.
Of course, you don't have to exclusively choose zero-drop steel shoes for safety purposes in industrial environments. Common steel shoes, as long as they match the security requisites, can perfectly do the job.
But if you are here, we guess that what you really want is a minimalistic presentation, leaving all the unnecessary, irrelevant aspects aside, especially regarding the design.
So, without losing more time, let's get into the details.
Zero Drop Boots Reviews
In the following lines, we are going to briefly review three of our favorite choices, now available to shop online. These three models are really different between them but can suit, more or less, the same profile of users.
Reebok Work Men's Soyay RB1910 Skate Style EH Safety Shoe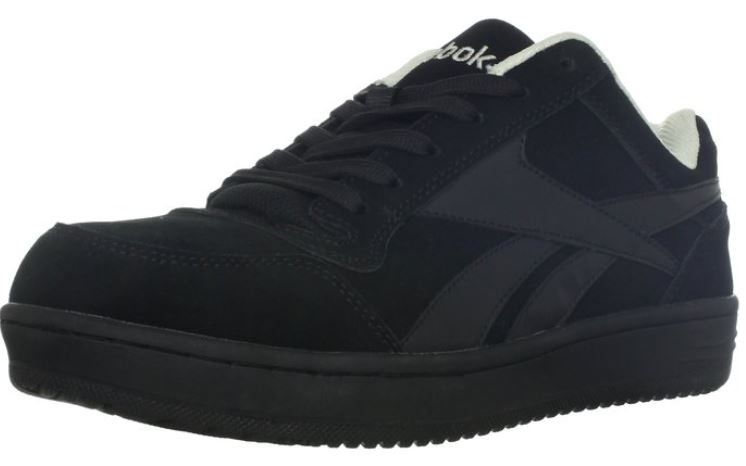 For the young public, things are not getting better than the Men's Soyay RB1910 Skate Style EH Safety Shoe. This sporty model is as minimalistic as it gets, giving us a great appearance without being too eye-catching.
Click here to read more reviews from Amazon
Now, the most important thing about the Men's Soyay RB1910 Skate Style EH Safety Shoe is the safety provided. This model's steel toe meets the ASTM F2413 safety standards and guarantees electrical hazard protection. Using Grip Master rubber, the outsole has resistance against slip, oil, chemical, heat, abrasion, and metal chips.
When we see the Men's Soyay RB1910 Skate Style EH Safety Shoe, it's like we are seeing a regular skating sneaker and that is where the minimalism resides. The exterior materials are suede leather and nylon mesh lining, a combination that allows great breathability. Inside, the amazing EVA foot bed with rubber heel wedge are responsible for the superb comfort for the everyday.
Marugo Magic Safety Velcro Steel Toe Jika-Tabi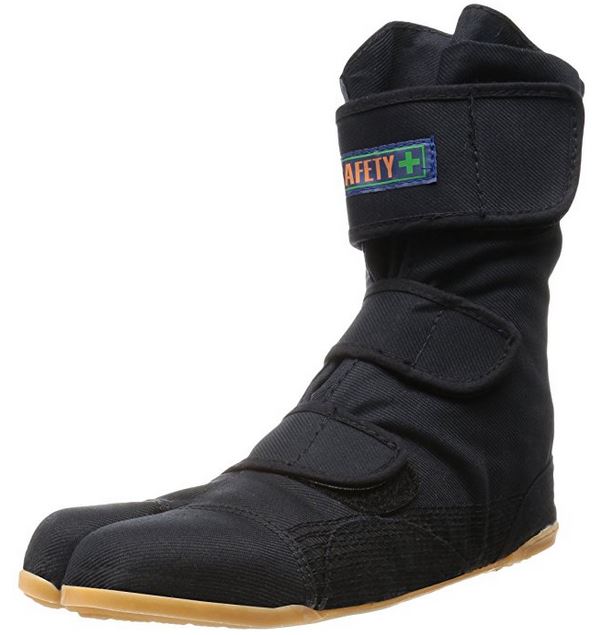 For particular circumstances, the best alternative may be the Magic Safety Velcro Steel Toe Jika-Tabi from Marugo, a high-cut Japanese-style boot that provides optimum safety in hazardous environments. The main feature of this model is the Velcro closure, which works fast and easy, allowing the user put the shoe on and off.
Click here to read more reviews from Amazon
The Magic Safety Velcro Steel Toe Jika-Tabi can be considered as zero-drop steel toe shoes because of the special yet thin outsole. Marugo promotes these tabi boots by saying that the thin rubber sole is the responsible for the outstanding stability and comfort, providing the right conditions to make the user feel like walking around barefoot.
A pair of boots cannot go more minimalistic as this. As you can see, the Magic Safety Velcro Steel Toe Jika-Tabi is made, on the outside, of a black cotton-made material, which looks amazing and is highly durable. If you mess it up at work, you can always clean the cotton-made material without problems.
Unfortunately, we need to say that the Magic Safety Velcro Steel Toe Jika-Tabi is not clear about the safety standards they meet for industrial use, so be careful with this point.
KEEN Utility Men's Destin Mid Steel Toe Shoe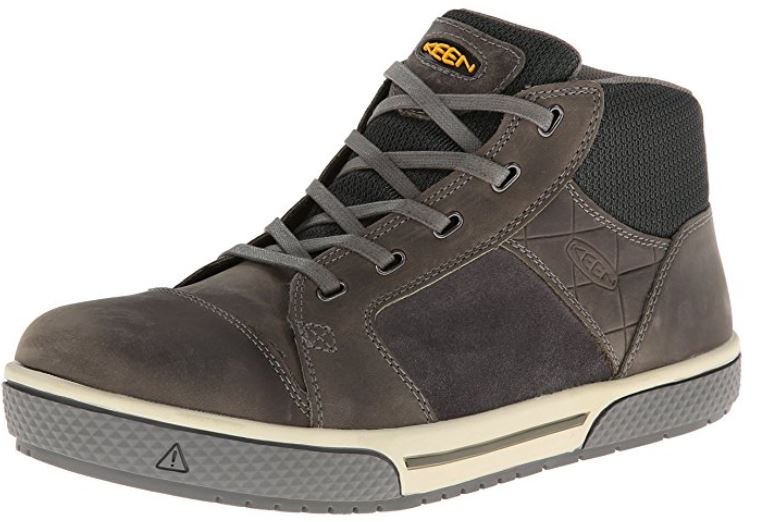 Maybe the most appealing and less minimalistic model on our list, the Men's Destin Mid Steel Toe Shoe is a highly reliable model for complicated situations. Aiming to a young audience with its fresh design, this product offers complete protection against electrical hazard and, for course, impacts by heavy objects.
Click here to read more reviews from Amazon
In fact, the Men's Destin Mid Steel Toe Shoe from KEEN Utility are so comfortable and versatile, that they can be used for outdoor activities that would require extra protection for the toes.
When it comes to safety standards, the Men's Destin Mid Steel Toe Shoe are glad to show up that they meet many of the multiple standards used in the industry: ASTM F2412-11 and F2413-11 I/75 C/75. The thick rubber outsole guarantees oil- and slip-resistant capabilities. And within, the dual-density EVA foam foot bed provides extraordinary comfort during all circumstances.
Buying Guide: The Criteria You Need to Know
Minimalistic shoes can be a double-edged weapon. If you focus on minimalistic steel toe shoes, you are deeply segmenting the market, cutting out your options. That's why you need to have very clear which are the most important aspects when shopping this kind of shoes.
Even when you are not focusing on zero-drop steel toe shoes exclusively, the available options are still scarce. So, let talk about the different criteria you should know about after spending a penny.
ü  Safety Label: A good steel toe shoe doesn't exist without the proper safety labeling that proves the effectiveness and quality of the product. No matter the model you choose, you need to pay great attention to which are the safety standards the pair of shoes in question are actually meeting. This becomes paramount in order to get a satisfying experience.
ü  Materials Used: From the outsole to the laces, you need to be careful about the materials present in the product. The quality of these will determine the durability and long-term experience. If you are going to use the shoes in a hazardous environment, this is a very important aspect to guarantee good conditions after a while.
ü  Comfort Features: Usually, steel toe shoes for industrial use aren't the most comfortable products in the world. That's why you must be extra careful with the different comfort-related features offered, trying to understand if you can benefit from them.
The Bottom Line
The three minimalistic steel toe shoes we just reviewed above are very different between them. This doesn't have to represent a problem for you. In fact, this allows you to see the versatile faces of the product segment.
Of course, if minimalism is your most urgent priority, the first two models will do a better job. But if you are not that obsessed with that matter, we must recommend you the last alternative.