Mizuno Men's Wave Evo Levitas – ZERO RAMP
"Levitas" is derived from the Latin word for "light".
The feather-light Mizuno Wave Evo Levitas running shoes make your run a sleek fit and feel. A close-to-the-ground experience is the best for men's lightweight running with stylish synthetic overlays.
- ZERO RAMP offset between the heel and forefoot provides a neutral plane tailored to a midfoot strike;
- WAVE TECHNOLOGY in the forefoot for maximum protection, comfort and a smooth ride, which combines dependable stability with exceptional cushioning.
Colors: Grape / Malibu Blue / Vibrant Orange (4T4V) | Sizes: 7-13, 14, 15 | Style: 410505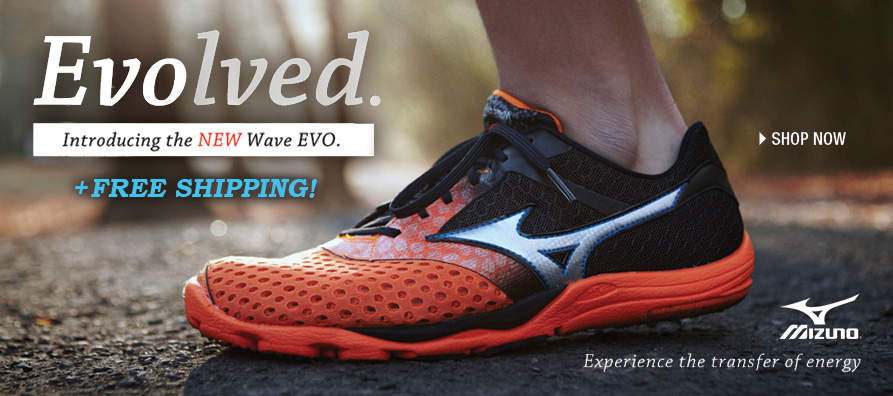 About Mizuno
Since our founding in 1906, we at Mizuno have taken special pride and pleasure in being able to participate in the exciting world of sports and in making the entire globe the stage for our activities. Each and every one of us is guided by the ideal of true sportsmanship. That was true nearly 100 years ago and is still true today. From the diamond to the track, from the court to the fairway, Mizuno's commitment to Serious Performance shines through. Today, the high quality equipment that only Mizuno can produce are relied upon by athletes throughout the world. We produce superior quality equipment for serious performance, through the artful combination of technology and craftsmanship. Because, at Mizuno, your passion is our obsession.
Synthetic
Rubber sole
Synthetic lining
Synthetic overlays
Lace closure
Padded tongue and collar
Flexible forefoot and unstructured heel area
Designed with a narrower forefoot platform, the Wave EVO Levitas is the lightest and fastest of the EVO shoes.
Official Source:
Mizuno Men's Wave EVO Levitas | Mizuno USA
Related Products